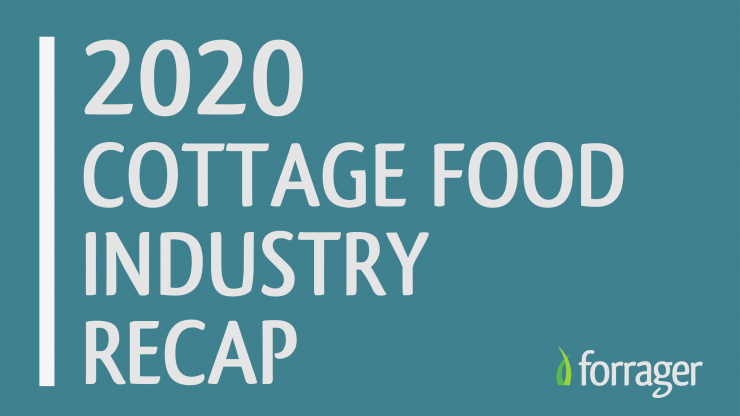 2020 Cottage Food Industry Recap
2020 was not just a year full of changes for the nation and world.
It was also a year which changed the cottage food industry… sometimes for the worse, but mostly for the better.
There were a number of important storylines this year, and surprisingly, many of them were not pandemic-related.
In this year-end recap, I'll give my take on the major events of 2020 that related to the cottage food industry.
2020 Timeline
I get into a lot more detail below, but here's a timeline of the major events from 2020:
The Pandemic
It wouldn't be a 2020 recap if I didn't start by addressing the COVID-19 pandemic. Like everything else, the coronavirus left its mark on the cottage food industry.
The pandemic impacted the industry in so many ways — both good and bad. Although it didn't affect cottage food businesses equally, it did seem to affect everyone in some way.
I actually have so much to say about this that I created a separate blog post about it. You can read that post here:
How The Coronavirus Pandemic Impacted The Cottage Food Industry in 2020
Because I went to so much detail in that post, I'll keep this section really brief.
But ultimately, the lockdowns and stay-at-home orders caused a huge surge of interest in starting a home food business, and the cottage food industry grew significantly as a result!
The Food Freedom Movement Sees Big Shifts
Amazingly enough, the pandemic wasn't the only big storyline of 2020.
In fact, this year brought not one, but two major shifts for the food freedom movement.
I will detail these changes more below, but my overall takeaway is that food freedom is here to stay. Food freedom laws are working well, and I fully expect more states to implement food freedom laws in the coming years.
First, let's start with North Dakota, since that's what happened first. It was actually pretty crazy, but at least it has a happy ending!
North Dakota Temporarily Loses Food Freedom
On January 1st, to kick off this unprecedented year, North Dakota's health department added new rules that intentionally gutted their state's food freedom law. Their "clarification" of the law added so much red tape that it was no longer a food freedom law.
This was particularly significant, because it marked the first time that a cottage food or food freedom law actually regressed.
I dissected the whole fiasco in this blog post:
North Dakota Loses Food Freedom
As a result, the Institute for Justice and some individuals in the state took up arms and sued the health department for their illicit actions.
Although the pandemic slowed down the lawsuit, it finally resulted in victory in December when a court judge agreed that the health department's actions were, in fact, illegal.
So once again, North Dakota rejoins Wyoming and Utah as the only states to have a food freedom law!
Wyoming Creates The Best Cottage Food Law In The Nation
Wyoming keeps setting the standard for what a cottage food law should be.
Back in 2015, they were the first to implement a food freedom law. Then in 2017, they amended it to make it a bit better.
But this year, Wyoming really outdid itself. In July, a new amendment majorly improved their law.
In fact, Wyoming's law is now so good that I created a brand new "freedom" color (blue) on Forrager's map of cottage food laws.
Despite already having a great food freedom law, Wyoming's law did have a couple notable restrictions: the home consumption requirement, and the lack of indirect sales.
The new amendment eliminated both restrictions, without adding hardly any extra requirements.
I detailed Wyoming's new law, along with some interesting insights, in this blog post:
Wyoming Sets A New Standard For Food Freedom
Basically, it's like someone said "What if we took the best food freedom law, and the best cottage food law, and merged them together?" That's what Wyoming's law now is.
Washington DC Significantly Improves Their Cottage Food Law
Obviously, all eyes were on Washington DC this year, and yet, few probably noticed the major improvements to their cottage food law. I'll admit, there were much more important headlines from Washington to focus on!
But within the cottage food realm, the District of Columbia's law amendments were actually quite significant.
In March, the first amendment removed the sales limit, allowed all direct sales, and changed the inspection requirements. Previously, annual sales were capped at $25,000, sales could only be made at farmers markets & public events, and a home kitchen inspection was always required.
While that amendment was a huge improvement, they took it one step further. In July, another amendment allowed both online sales and retail store (indirect) sales.
Washington DC doesn't show on Forrager's map, but if it did, it would have gone from the pale yellow "poor" color, all the way up to the dark green "great" color. That's how significant these changes were!
Maryland & Washington Remove Their Home Address Label Requirement
One of the big (and sad) storylines of 2019 was a horrific incident where an Iowa cottage food baker was raped in her home during a pickup of a cookie order. I encourage you to read the full story here.
Side note: Justina has rebounded from that nightmare remarkably well, and her business is now thriving more than ever. Check out her Facebook page here.
That's never happened before (to my knowledge), and let's all hope that nothing like it ever happens again!
Despite being exceptionally rare, that incident has caused states to reconsider the home address requirement on product labels.
Most states (but not all) require a cottage food producer to put their home address on their labels — a requirement that many producers have always felt uncomfortable with.
In 2020, we saw two states pass amendments specifically to address this.
First, in June, Washington removed the home address requirement entirely, and now requires cottage food operations to list their permit number instead.
Then, in October, Maryland added an option for a cottage food producers to request an ID number to use in place of their home address.
In 2021 and beyond, I expect more states to consider similar amendments, or at least avoid including the home address requirement in new bills and laws.
Mississippi Increases Their Sales Limit
In July, Mississippi increased their sales limit from $20,000 to $35,000 per year.
$20k is one of the lowest sales limits of any state, so it's nice to see that they almost doubled it this year.
Now only 7 states (AL, LA, MN, NH, OK, OR, SC) have a sales limit of $20k or less.
Neighboring states often mimic each other, so it will be interesting to see if nearby Alabama and Louisiana, which share the $20k sales limit, will follow in Mississippi's footsteps in the future.
Conclusion
2020 was a year unlike any other. But despite the turmoil that the pandemic caused, the cottage food industry made significant progress.
There was some resistance, but the food freedom movement ultimately made large strides forward, with North Dakota winning the battle, and Wyoming leading the way.
Washington DC was the only state to make significant changes to a regular cottage food law. In a normal year, perhaps we'd see a few more smaller amendments (like Mississippi's), but most of the focus was appropriately on anything urgent and pandemic-related.
Justina's horrible incident in 2019 highlighted the need for changing product labels, and we saw some response to that in 2020 (and we will likely see more going forward).
Similarly, the pandemic has highlighted the need for remote and indirect sales of cottage food, and it will be interesting to see if states respond to that in 2021!