Three Tips to Create Labels for Canned Goods that Sell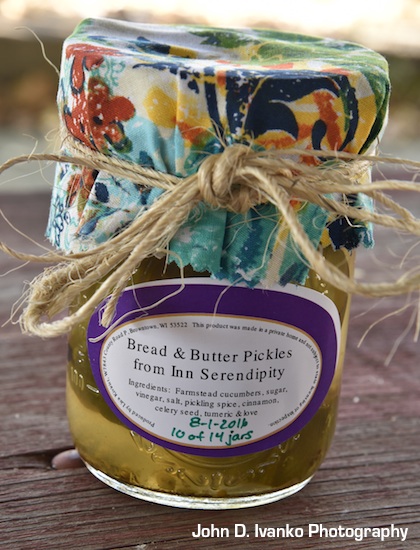 You know your strawberry jam rocks. Or maybe your kids arm-wrestle over the last of your pickles in the jar. Do family members rave over the salsa you give as holiday gifts?
Time to officially become a food entrepreneur and start that food business out of your home kitchen under your state's cottage food law.
Homemade Jams, Pickles or Salsa for Sale (in many states)
Thanks to increasing opportunities under cottage food laws, most states allow the safer, high-acid canned food products with an equilibrium pH value of 4.6 or lower to be produced in home kitchens for specific public sale. This typically includes basic staples like jams, jellies, pickles and salsa. Remember each state law is different and it's important to connect with and read your state's specific regulations and requirements, usually via your state's department of agriculture, which will include gross sales limits (if any), labeling requirements, information on where you can sell and details on what you can produce.
Once you determine what you can sell, how can you professionally craft a product that visually reflects the delicious homemade goodness inside? We struggled with this ourselves in our cottage food operation off our Wisconsin farm, Inn Serendipity, listed on Forrager. We knew our bread and butter pickles were tasty, but our overly homespun, hand-written labels affixed with packing tape didn't communicate the quality product inside.
This inspired us to create a new free toolkit, Cottage Food Success:
 A Labeling Guide and Toolkit for Creating Canned Food Products that Sell, detailing ideas and how-to's for communicating the quality of what's inside those jars.   With just a little more work, your packaging can look more professional yet communicate the hand-crafted nature of your product and, bottom line, help increase sales.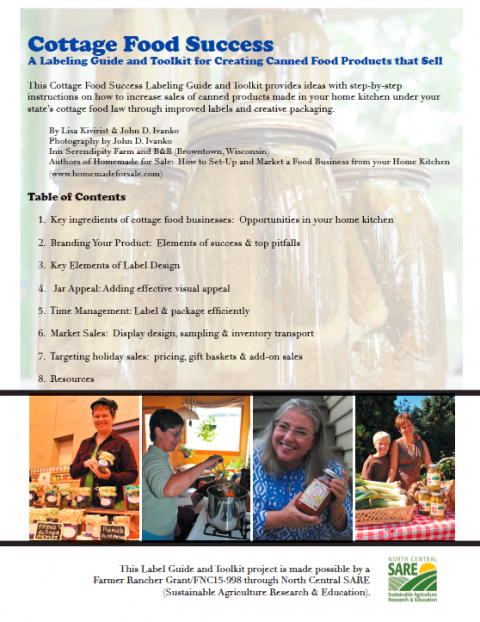 Here are three of our favorite tips to get you started:
1. Stock Up with Produce in Season
Ingredient quality makes all the difference in crafting a tasty product that looks visually appealing with vibrant colors. If you are a home gardener, tap into the bounty out your back door through canned products. No garden? Head to your local farmers' market and befriend a farmer growing the items you need. See if they might have "seconds," imperfect produce still fine for canning but blemished enough so it wouldn't readily sell at market. Often farmers are happy to sell such excess at a good price if you buy in bulk.
2. Convey Small Batch Quality
Remember you don't necessarily want your product to look too professional. The fact that this item was personally made by you in your home kitchen is something to really showcase.
For example, we laser print our jar labels for convenience but add in a hand-written note numbering each label of the jar within the batch: Jar 3 of 10. Such a small, personal addition adds instant value to your product as customers know it's limited and rare, just like fine art prints are numbered and signed.
3. Add Color and Texture
Strategically adding elements of color and texture to your jars adds visual appeal along with the opportunity to communicate your brand, the image associated with your quality product. More details on branding your product can be found in our Homemade for Sale book.
Our free Labeling Guide and Toolkit details step-by-step processes for adding easy decorative elements to your jars such as:
Fabric toppers
Washi tape
Paper toppers
Seasonal elements for holiday markets
Additionally, the Labeling Guide and Toolkit covers time management, including how to label and package efficiently, as well as increasing market sales through display design, sampling and inventory transport.
Bottom line, your jars should reflect you, authentically communicating to potential customers who you are and what your product is all about. Maybe you're sleek and modern or more lace and bling. Tell your product's story by thinking through how things look on the outside to reflect the story – and flavors – inside.