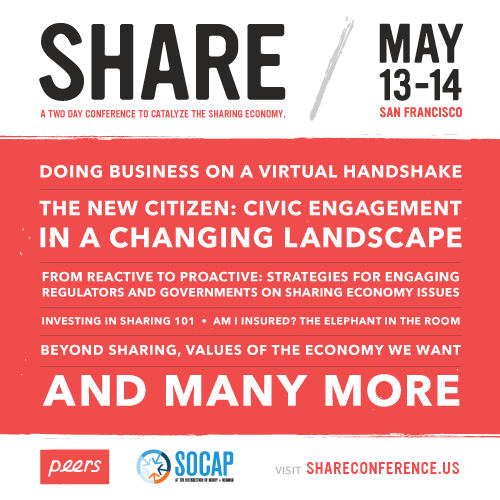 Peers is hosting a conference specifically about the sharing economy, called SHARE: Catalyzing the Sharing Economy. The cottage food industry is still small (but growing), but it is really part of a much bigger trend. The local food movement has been busting at the seams recently, and nowadays it seems like people are sharing anything possible, including their cars, homes, tools, and yes, even food!
Here is the blurb about the event:
Peers is partnering with SOCAP to put on a 2 day conference called SHARE: Catalyzing the Sharing Economy on May 13 and 14 in San Francisco.

The sharing economy impacts and its future impacts all of us. Our conference is a deep dive into how the sharing economy will shape the future of government regulation, work, citizen engagement, communities, impact investing and policy. If you've ever wondered how the sharing economy will impact your work and life, this is the conference for you.

Some of the brightest minds in sharing will be there — Brian Chesky (Airbnb), Neal Gorenflo (Shareable), Arun Sundararajan (NYU Stern), Lisa Gansky (Mesh Labs), April Rinne (Collaborative Lab), Adam Werbach (Yerdle), Douglas Atkin (Airbnb), Ron Conway (SV Angel), David Chiu (SF Board of Supervisors), Janelle Orsi (SELC), Brad Burnham (USV), Kevin Jones (SOCAP), Lucy Bernholtz (Stanford), Rashad Robinson (Color of Change), Juho Makkonen (Share Tribe), Juliet Schorz (BU), Shervin Pishevar (Sherpa Global), Allison Cook (Story of Stuff) and Jeremiah Owyang (CrowdCompanies) and many more.

We hope you'll join us. Click here to register. And use the promo code C_PeersCommunity to save 50%!