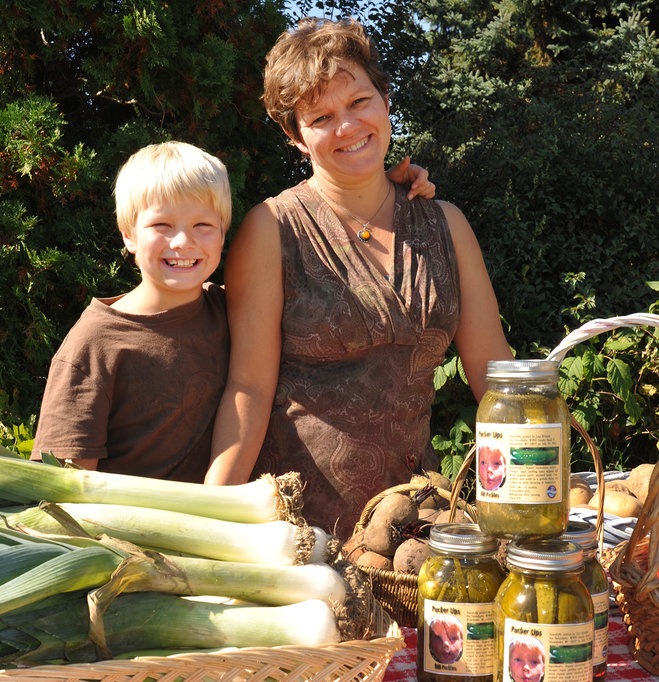 Selling at Market: Tips to Return Home "Sold Out"
Many states' cottage food laws may limit sales to public events like farmers' markets, fairs or other community gatherings. While more restrictive than those states that allow cottage food operators to take orders over the phone or by text message and delivery to private residences or offices, don't throw your hands up in dismay. Just figure out how to thrive within the sales outlet allowed in your state. (Of course, you can also advocate for expanded legislation.) Rather than seeing your sales venue potential as half empty, view it as half full. This blog will offer ideas on how you can boost your sales at farmers' markets.
It's important to sell at the best public market outlets you can find. Do your research before committing to a market. Besides having a healthy number of vendors (usually the more, the better, since this might attract more customers), ask how many vendors are also selling cottage food products. Having too many cottage food enterprises at the same market might lead to competitive price-cutting, best avoided. If you can get a sense of traffic and attendance, all the better. If you don't want to commit to going every week, find a farmers' market that may allow you to just come just for the day; it might cost a bit more on a daily basis but make better sense to you in terms of the effective use of your valuable time.
Boost your Sales at Farmers' Markets
Once you've settled on the farmers' market you want to attend, next is getting a plan in place for your sales goals. Some ideas to boost your market or event bottom line include the following:
Cross-promote
What do you sell that pairs perfectly with something else at the market? Do you make relish and someone else sells sausages? Do you sell pound cake and another farmer sells fresh strawberries or blueberries that would make the perfect complement? Connect with these vendors and explore your cross-selling opportunities. In this day of social media, cross-promoting and tagging each other's business and social media outlets can attract new customers.
Focus on complementary sales
If your state allows it, sell both low moisture baked goods and high-acid canned products. What better than selling a fresh loaf of artisan bread and the jam, jelly or marmalade to go on top of it? These complementary product sales also allow you to boost revenues without adding even more work to the days before your market. In most cases, your strawberry jam was made in June, labeled and inventoried, then stored on shelves. When you head to market in August, you'll just need to remember to take along a dozen jars, instead of having to bake another dozen loaves of bread to make the market profitable. Think: more sales — but not more work — the day or two before market.
Cater to kids
You always see kids at markets. Often they look a little bit bored while their parents or caregivers negotiate more time to linger and shop. Provide a solution: small treats for the kids, something to occupy them and satisfy their hunger. Selling something easy to hold and eat in a kid-appealing shape could score some points, like a cake pop, attractively decorated cupcake or a single-serving item like herb-focaccia bread. To avoid health department headaches and harassment, avoid slicing, spreading or offering anything that might appear like what you're offering is "food service." Everything must be a food product.
Offer multiple discount deals
Everyone loves a special deal. Look at how some of the farmers promote their produce. Borrow a couple tactics, like "buy one, get one free" or volume discount pricing: "3 for $10."
Seek shade for your booth
If possible, visit the market beforehand and see how the sun hits it. Try to confirm a booth space in as much shade as possible to help preserve your products, especially if you have baked goods or candies. Plus, your customers might linger longer if they're in the shade.
Barter with other vendors
At the end of the market, especially if you have extra fresh fare like loaves of bread, barter with other vendors for some take-home treats. Common after the market has closed, these barter scenes provide an extra bonus: building community and cultivating relationships.
Besides boosting your bottom line employing the tactics above, attending farmers' markets can be a great source for new product ideas, product testimonials from happy customers that you can use in your marketing efforts. Of course, farmers' markets are the ideal place to complete a feasibility study.