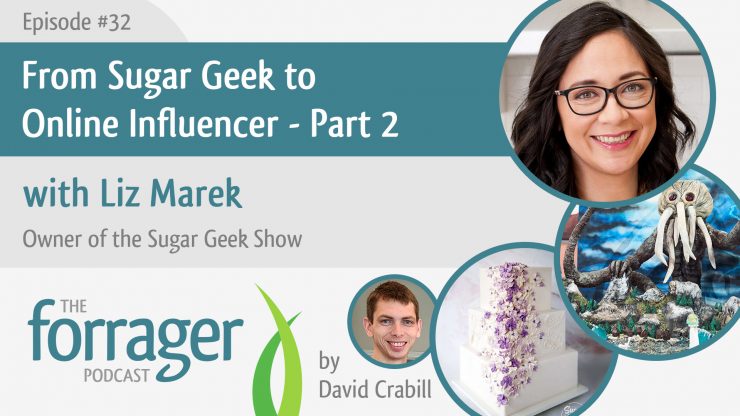 From Sugar Geek to Online Influencer with Liz Marek – Part 2
Podcast Episode #32 —
With over 300,000 followers, Liz Marek has become very well-known in the cake decorating community! She lives in Beaverton, OR and teaches beginner and advanced bakers how to craft amazing custom-decorated cakes through her online business, The Sugar Geek Show.
Liz began her cake decorating business as a side job just 13 years ago. After running that business from her licensed home kitchen for many years, she started winning cake competitions and making more of a name for herself.
Liz has written books, appeared on television and the Food Network many times, and traveled around the world as a professional speaker. She is a mom to two young children, and she now focuses solely on teaching online through The Sugar Geek Show.
In this interview, Liz shares plenty of helpful tidbits about running a cake business, but what I found most compelling were her many missteps and consistent persistence along the way. Things often didn't go the way she hoped or planned, but she still made something great out of it by constantly reinventing herself!
This is Part 2 of Liz's interview (listen to Part 1 here). In this episode, Liz shares beginner tips for starting a cake business, what it was like to compete on (and win) Halloween Wars on the Food Network, and more about how the Sugar Geek Show has grown (and where it's going).
What You'll Learn
How to determine the right time to start a business
How to deal with imposter syndrome when your skills are at an amateur level
Why Liz still teaches beginner level tutorials and skills
How Liz started charging money for some of her content
What it was like for Liz to become the breadwinner in her family
How Patreon transformed Liz's business, and why she almost didn't try it
How to find work/life balance while running a successful business
Liz's vision for where the Sugar Geek Show will go in the future
What it was like to win Halloween Wars on the Food Network
How to get on a TV baking competition
The top tips that you should know when starting a cake business
The most common problem that new cake makers experience
Why it's so important to create a cake contract
Liz's #1 tip that you must do before making and delivering a cake
Resources
Part 1 of this interview with Liz Marek (Episode 31)
Sugar Geek Show (YouTube / Facebook / Instagram / TikTok)
Liz's Cake Decorating Classes:
Liz's Facebook Groups: