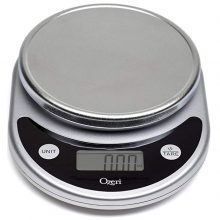 If you already have a digital kitchen scale, I am not recommending that you buy this one instead. This is only for those who do not already have a scale.
I continue to find cooks who do not use a kitchen scale when cooking. It is the best!
It is essential for bakers who weigh things like flour, but I use it in so many other ways too. Most of my recipes have been converted to weight, and I use it almost every time I'm in the kitchen.
There are many other good digital kitchen scales on the market, but this one is affordable, gets great reviews, and has met my needs very well!