Interview with Lisa Kivirist, Author of Homemade For Sale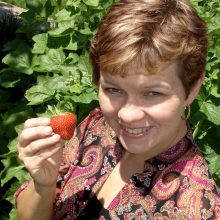 Lisa Kivirist and her husband John Ivanko wrote the book Homemade For Sale, which is an excellent resource for anyone who wants to start or grow a cottage food operation.
I spoke with Lisa about her progression from Corporate America to entrepreneurial eco-farmer to author/speaker/activist. You can listen to the interview by clicking on the audio player above, or use one of these download links: MP3 | OGG.
If you'd like to learn more about Homemade For Sale, you can read my review or check out some excerpts from the book. Also, you can learn how to buy it at a discount.
Here are the sections of the interview:
1:08 – Lisa explains Inn Serendipity Bed & Breakfast, an eco-friendly farm that she and John established
1:57 – What was it like to move from a corporate job to a farm?
3:04 – What caused you to change your lifestyle?
4:22 – What would you say to someone who wants to make the transition to being their own boss?
6:10 – Should someone quit their job to start a CFO?
8:00 – When is the right time to quit a corporate job?
9:32 – What challenges did you face when starting a business?
10:53 – What's the difference between a hobby and a business?
13:37 – Lisa tells the story of Felicia Hill, whose desire to help her son turned into a successful business
15:25 – What are the first steps for starting a CFO?
18:34 – How does someone grow their CFO?
22:12 – What are your next steps? Where would you like to see the cottage food industry go?
24:02 – Basic info about starting a cottage food law or amendment
25:23 – Why did you write Homemade For Sale?
28:05 – Concluding remarks