Forrager can help you navigate your state's cottage food law, but when you're trying to start a food business, it will only take you so far. Eventually, you will start asking questions like:
Am I selling the right product at the right price?
What are common mistakes I should avoid?
How do I stand out in a crowded marketplace?
John Ivanko and Lisa Kivirist wrote Homemade For Sale to answer those types of questions. They have combined their experience in local food, marketing, and publishing to provide the best cottage food operation (CFO) guide to date. For more info about the book, you can read David's review, check out the book's website, or read some excerpts from the book.
About The Authors
John and Lisa started their careers in big business, but now they run a B&B and eco-friendly farm in southern Wisconsin. They sell cottage food products under Wisconsin's "pickle bill", and they have worked with legislators to try improving Wisconsin's cottage food law. They are activists in the local food space, often speaking at events and writing for publications.
This couple wrote Homemade For Sale because local, sustainable food has had a profound impact on their lives. Their new lifestyle has become their passion — a passion that they are sharing with as many people as possible, including their son, Liam. It is incredible that they have devoted so much time to a book for this small cottage food industry… it is clear that money is not their primary objective!
How To Buy Homemade For Sale
Although you can buy Homemade For Sale in many other sales channels, including the big book corporations, we recommend you buy it with the link and discount code below. By doing so, more money will go to the authors, and you will be supporting Forrager a little bit too.
When you buy through the link below, you are buying the book directly from the authors — they will be shipping it themselves. They will even sign it if you ask! In the shopping cart on Square, you can use the notes section to request a general signature, or ask that the book be made out to someone. John and Lisa are active farmers, so please be patient if it takes a few days for your book to ship.
Using our discount code: On the very last checkout page in the Square marketplace (after checking out as a member or guest), click on the "Add promotional code" link. When you type in "FORRAGER" and hit enter, you should immediately get $2 off, for a final price of $18 (WI residents must pay sales tax).
Here are some screenshots: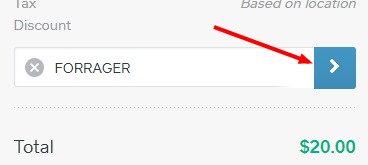 USE THE 10% PROMO CODE
FORRAGER
AT CHECKOUT
Homemade for Sale
Inn Serendipity Bed and Breakfast
Buy for $20 $18