Kiminy's Crickets
Cottage Food Business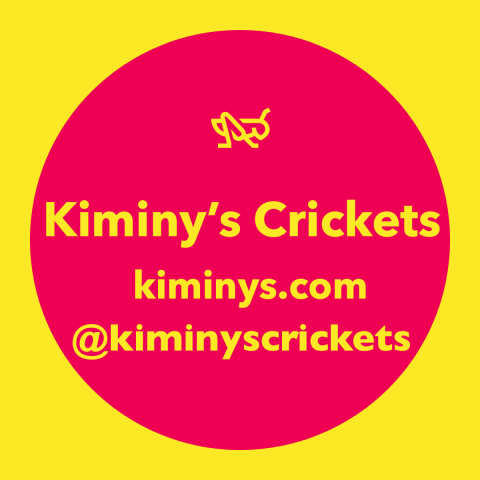 Contact Us
Kiminy's Crickets
instagram
twitter
facebook
linkedin
Business Info
Kiminy's Crickets sells homemade cricket cookies! We make our cookies with cricket powder, which adds protein, nutrients, and a slightly nutty flavor that fits right in! Crickets are a delicious, sustainable, and environmentally-friendly source of protein. We hope that our cricket cookies will play a small part in making the world a better place!
Kiminy's is a home-based bakery in New York City's Upper West Side, offering pickup, local curbside delivery, and shipping anywhere within New York State. Our business is made possible by New York's Cottage Food Law.
Our current products include Chocolate Chirps, Crickerdoodles, and Fire Crickets. Chocolate Chirps can be ordered with double the dose of cricket power by selecting "Extra Chirpy". Fire Crickets are available in a Gluten-Free variety. We hope to offer more varieties of cricket cookies soon, including PB&C, Crickets Go Buzz, a few different holiday-themed cookies, and additional customizations for each cookie. We also hope to offer some awesome swag and add-ons in the near future, including reusable tote bags, stickers, greeting cards, and gift packaging for any holiday you're celebrating.
Kiminy's Bug Blog has news about everything from entomophagy (the practice of eating insects), interesting bug facts, my adventures in starting and running an online bakery, the dessert scene in NYC (especially the Upper West Side), sustainability and the environmental impact of various protein sources, cottage food laws in New York, and so much more!
Kiminy's Crickets was founded by Kim Johnson in November 2021. Kim has a background in software engineering leadership, and has worked as a QA Specialist, Software Developer, Product Manager, Engineering Manager, Engineering Director, and VP of Engineering. She has experience ranging from early-stage startup to corporate enterprises, and is well-versed in being adaptable and learning whatever skills are needed to get the job done.
If you have any questions, suggestions, requests, or feedback, visit our Contact page to reach out to us. We hope to hear from you soon!