Everything Brittle LLC
Cottage Food Business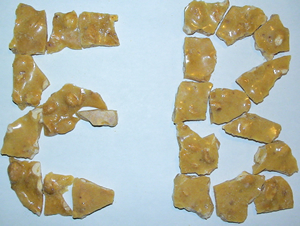 Contact Us
Everything Brittle LLC's website
Everything Brittle LLC's on-line store
Everything Brittle LLC's Facebook site
Everything Brittle LLC's Twitter site
Everything Brittle LLC's Instagram site
Using an over 30 year old recipe, we produced brittle each year for family and friends as gifts. Many would ask "Why don't you sell this brittle? It is awesome! We could then get it more than once a year!" After many years of people asking, we finally decided to bring our recipe and products to the masses. We hope that you enjoy our brittles as much as our family and friends have over the years.
Everything Brittle's mission is to produce the highest quality and best tasting hand made candy brittle in small batches for our customers, while allowing the consumer to give back with each and every purchase.
Giving Back for the Future:
We are happy to support the local Aikey Foundation's Ruth M. Aikey Memorial Scholarship program through a $1.00 donation for every bag sold for their four-year full-tuition scholarship for future teachers in need.
Our Ohio Cottage Food Production License currently restricts selling our products outside of Ohio. Per our cottage food license, only orders going to Ohio addresses will be accepted and all others will be cancelled and refunded.