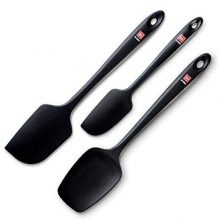 These spatulas are, quite simply, amazing.
Even if you already have too many spatulas, take a chance with these. We still have a few old spatulas in our drawer, but these are the ones I always grab.
We only got one initially, but I liked it so much that I ordered a full set later.
They strike the right balance between flexible and rigid. Being a single piece of silicone (with a steel-reinforced handle), they are easy to wash and have no crevices for food to hide.